Chief of the department: Bronov Oleg Yurievich., M.D., Ph.D., associate professor of X-ray radiography department with a course of clinical radiology.
Radiation diagnostics is the most developing part of modern medicine. It all started with invention by William Kondrad Roentgen on November 8, 1895, of X-rays ("X-rays"). This invention gave an unthinkable impetus to the development of modern medicine. Afterwards after the invention of "X-rays", global changes in radiology took place. Sir Godfrey Hounsfield invented the X-ray computer tomograph in 1972, and in 1973 Richard Damadyan, one of the first to use nuclear magnetic resonance to study the human body.
After the discovery of x-ray radiation, the invention of CT and MRI devices, a lot of time has already passed, these techniques have firmly entered the arsenal of doctors and continue to develop actively.
In the Pirogov National Medical and Surgical Center the most modern diagnostic equipment is installed. The use of multi-spiral computer and high-field magnetic resonance imaging — allows you to diagnose almost any pathology, any organ and system in the very early stages of the disease.
The range of equipment used in the Department of Radiology includes:
Computer tomograph Phillips Brilliance 64 (64 slices);

Siemens Somatom Difinition Flash computer tomograph (256 slices, dual-energy tomograph);

Magnetic resonance imager Siemens Magnetom Skyra (3 Tesla);

Magnetic resonance imager GE HDx (1.5 Tesla);

X-ray apparatus ItalRay Clinodigit Omega;

X-ray device Philips Duo Diagnost;

X-ray machine GE Precision 500.
X-ray studies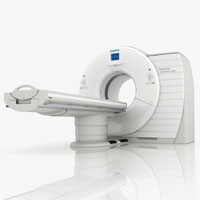 Magnetic Resonance Imaging (MRI)
Magnetic resonance imaging is a safe method for studying internal organs and tissues using the physical phenomenon of nuclear magnetic resonance. The main features of the method are the absence of x-ray radiation, the high soft tissue contrast of the images makes it possible to differentiate various pathological conditions with special accuracy, to conduct studies in patients with renal failure, as well as intolerance to iodine-containing contrast agents, the possibility of using various hardware and software kits for diagnosis.
Indications for magnetic resonance imaging are quite extensive and cover all human organs and systems.
Computed tomography (CT)
Computed tomography is a method of studying internal organs and tissues based on the measurement of attenuation of x-rays. The main features of the method are in a wide range of its application, rapid research (scanning the patient may pass in a few seconds), good contrast of parenchymal organs (especially with use of a contrast agent), conducting studies for patients if it is impossible perform MRI, the ability to use various hardware and software kits for diagnosis.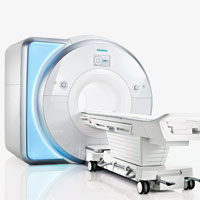 In our Center, on the modern x-ray machines, computer and magnetic resonance tomographs, the full range of studies is possible:
Study of the brain and spinal cord (research of vascular diseases, tumor diseases, preparation for neurosurgical operations, functional MRI, epilepsy);
Study of the spine (degenerative changes, syringomyelia, tumor and traumatic lesions, vascular lesions);
Study of the musculo-articular system (inflammatory and degenerative changes, tumor damage, traumatic changes, systemic diseases);
Study of the organs of the abdominal cavity, gastrointestinal tract (tumor, inflammatory lesion);
Study of the liver, biliary tract (tumor, inflammatory lesion);
Study of the organs of the urinary system (tumor, inflammatory lesion, various structures, urolithiasis);
Study of the uterus, appendages;
Prostate examination (including the PI-RADS protocol);
Research of mammary glands (including protocol BI-RADS);
Cardiac examination (including CT coronary angiography);
Research of vessels (vessels of any area);
A study of the organs of the chest and lungs (inflammatory changes, specific changes, tumor lesion, systemic lesion).
Low dose studies (CT)
The Center conducts research on modern computer tomographs, so we have the opportunity to significantly reduce (up to 40-70%) radiation exposure during CT scans of almost any field. Modern iterative reconstruction protocols make it possible to achieve a good diagnostic image using low x-ray tube power values. These studies are suitable for screening various conditions, including neoplastic (for example, lung cancer), as well as in the case of dynamic observation, in which it is necessary to re-examine the CT scan in a short period of time.
Special studies
MRI — for epilepsy. In our Center, we conduct research on an apparatus with a magnetic field power of 3 Tesla according to a special protocol that allows us to evaluate the structure of the brain with an accuracy of 0.6 mm. The protocol may also include a study with endotracheal anesthesia, which minimizes artifacts from patient movement, minimizes the possibility of a seizure during the study. Special three-dimensional sequences are used, which can be reconstructed in any plane, which makes it possible to more fully evaluate the brain parenchyma for the presence of epileptogenic foci.
Functional MRI and tract construction (tractography) of the brain — a study performed most often before neurosurgical intervention. Allows mapping of speech, auditory and motor zones of the brain, as well as assess the passage of bundles of neurons in the substance of the brain
Dual-energy studies for CT — dual-energy studies allow CT angiography of any area of ​​the body, while allowing you to "subtract" bone structures with a greater degree of certainty than monoenergetic studies. In addition, such studies (spectral computed tomography) can evaluate the composition of calculi of the urinary system, evaluate perfusion of the pulmonary parenchyma, assess the presence of tofuses in gout and significantly reduce artifacts.
A study with xenon is a unique study, available only at the Pirogov National Medical and Surgical Center. A study with xenon allows you to evaluate lung ventilation. During the study, ventilation of the lungs with inert gas by xenon takes place, after which a dual-energy scan is performed, which allows us to estimate the distribution of inert gas over the lung parenchyma. Such studies help to assess the initial state of the lungs with various pathologies (COPD, bronchial asthma, tumor damage), to predict lung function after surgery, as well as to evaluate the dynamics of the disease in a second study.
Specialized studies in prostate cancer in men and in breast cancer in women, using modern PI-RADS and BI-RADS protocols, make it possible to assess the possibility of clinically significant prostate and breast cancer.
The use of various contrast agents, including hepatospecific ones (a contrast agent for MRI, which is used to evaluate the liver), allows you to evaluate the structure of the liver, as well as changes, to determine with the greatest certainty which pathological process occurs in the liver.
Features of MRI in patients with pacemakers (AP). More recently, this was an absolute contraindication for MRI. Modern capabilities of manufacturers of implantable devices allow circumventing the prohibitions. If you have been given an MR-compatible pacemaker (AP), then most likely an MRI scan is not contraindicated for you. But in this case, it is important to know and remember that there are still a number of limitations. Such studies are possible only on tomographs with a capacity of not more than 1.5 Tesla, the scanning time is limited to 30 minutes, the pacemaker and electrodes should not be damaged. Using a special wireless device (programmer), the pacemaker must be switched to safe mode (this is performed by an arrhythmologist), during the study, ECG is monitored. The possibility of conducting a study with a pacemaker is indicated in the passport of the device (including the maximum power of the MRI device, as well as the need to switch to safe mode compatible with the MR environment).
An important clarification is that almost all studies can be performed on both computer and magnetic resonance imaging scans, however, often the choice of research method depends on the tasks that a radiologist is asked. Our experts will help you determine the necessary range of research methods, depending on the task.
Diagnosis is an important link in the right choice of treatment. Highly qualified radiologists and the entire spectrum of modern diagnostic equipment are a guarantee of success in making the correct diagnosis.
Dear patients, you can learn about all contraindications for research from our specialists.
Contact Information
Address: 105203, Moscow, Nizhnyaya Pervomayskaya str., 70
Contact phone number: +7 (499) 464-03-03
Fax: +7 (499) 463-65-30
How to reach us by using public transport
"Pervomaiskaya" metro station (last carriage of the train out of the city centre). From "Pervomaiskaya" metro station by any tram or trolley bus go to the stop "15th Parkovaya Street". Go along the 15th Park Street to the intersection with the Nizhnyaya Pervomaiskaya Street, turn left and walk about a hundred meters to the entrance of the Pirogov National Medical and Surgical Center.